Bee Line Truck Alignment

Wheel Alignment is a valuable service. We pride ourselves on our qualified technicians and our Bee Line Laser Computerized Alignment Equipment which allows us to keep your vehicle(s) operating safely and efficiently. Our reputation relies upon it!
5 Good Reasons to Have Us Check Your Truck Alignment
1. We can help extend your tyre mileage.
Tests have shown 70% of the vehicles on the road today would benefit tremendously from being properly aligned. How much are your tyres on your misaligned vehicle(s) costing you? Properly aligned vehicles can reduce tyre wear up to 30%! That's 30% to your bottom line.
2. We can help extend your fuel mileage.
Proper alignment can save an average of 2% on your fuel cost. By having us align your vehicle(s), we can reduce your vehicle(s) rolling resistance (tyre friction and drag). When all wheels are traveling in the same direction perfectly, it takes less energy.
3. Diagnose problems before they get out of hand and cost you more money.
When we check your alignment we look for situations which will progress into larger, more costly repair bills. Many variables cause alignment problems. Most don't happen all at once so drivers may not notice problems as they develop.
4. Proper alignment requires trained technicians and accurate equipment.
As professionals we know that in order for a vehicle to operate safely and most efficiently, all axles must be perpendicular to the chassis centerline. We use only the most advanced equipment and highly trained specialists in our shop.
5. "Piece of Mind" is an added bonus you get by having us check the alignment of your vehicle(s).
Whether you drive your own rig or you are responsible for a fleet with numerous drivers depending on your decisions, you can feel good knowing that you have taken the right steps to maximize the safety, comfort and handling of the vehicle(s) you command.
A proven way to improve bottom line... by a lot!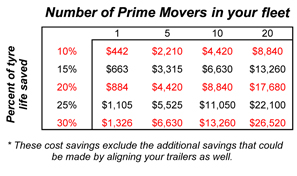 This chart is based on fleets that have prime movers with ten tyres at the cost of $450.00 per drive tyre and $700 per steer tyre. It also includes the price of mounting and balancing the tyres. When we align your wheels, we save you thousands of dollars by extending the tyres life. These numbers reflect the savings over the life of the tyres. You can also expect a 2% savings on your fuel as well!
Ask us how we can start saving you money today. We look forward to doing business with you.